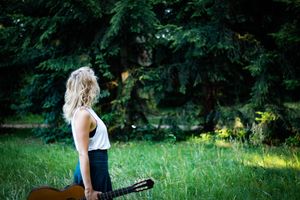 About MARA
MARA is a Vocalist, Musician, Songwriter and Singing Facilitator based in Berlin. With her spiritual background of Universal Sufism, from an early age she has been in touch with honoring the Oneness all spiritual traditions. Through Music, Singing and Dance she now carries this wisdom into the world, hosting conscious Music Events. 
As a Singer-Songwriter, MARA is currently working on her second Album. In her music and lyrics, MARA expresses personal thoughts regarding society nowadays as well as philosophical and spiritual topics. To be present in the moment, connected to the simplicity of being and of life itself, is one of the main subjects her music is about.
MARA is using the loop-station to add harmonies and instrumental solos to her live performances as well as a percussion pad, which give her concerts a unique variety of different sound-facettes, suitable for dancing as well as for dreamy listening. 
MARA's dominant intent when sharing her music, is to create a space of connection and presence, where the listener, dancer or participant is allowed to be just the way they are and to surrender to the moment.
Time to lean back and let yourself be taken on the journey